Business
Comedy
The King of Dramas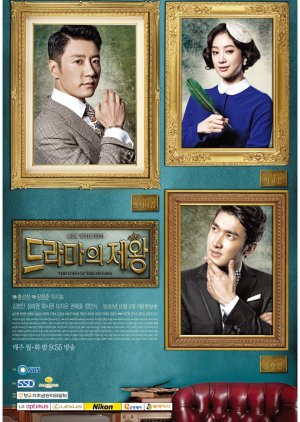 The King of Dramas Eps 1-18
Ori. Title : 드라마의 제왕
Alt. Title(s) : Deuramaeui Jewang, The Lord of Dramas,
Duration : 1 hr. 5 min. / eps
Director : Hong Sung Chang
Casts : Kim Myung Min, Jung Ryeo Won, Oh Ji Eun, Choi Si Won, Jung Han Hun, Jeon Moo Song
Aired : Nov 5, 2012 - Jan 7, 2013
Aired On : Monday, Tuesday
Synopsis
Anthony Kim, CEO brilian dari perusahaan produksi drama yang akan melakukan apa saja dan segalanya demi uang, ketenaran dan kesuksesan. Dia dikenal memiliki sentuhan Midas karena dia telah menciptakan drama blockbuster dan bintang-bintang Hallyu. Ketika kematian pada set mengendap jatuhnya rahmat, Anthony berusaha mendapatkan kembali statusnya dengan menempatkan drama "pagi keijo" di udara. Dan untuk mencapainya, ia membutuhkan bantuan idealis Lee Go Eun, yang bermimpi menjadi penulis top suatu hari nanti, dan aktor yang tampan tetapi egoistik Kang Hyun Min.
Download Link
Need subtitle? Find on: Subscene Mirror
Jangan Lupa di Share!!! Biar Semua Orang Pada Tahu! 😁
Cara download? Baca disini
Link rusak? Lapor di komentar
Jika menonton di HP gunakan MX Player
Jika menonton di PC / Laptop gunakan VLC Player
Jika file berekstensi zip / rar, ekstrak dulu menggunakan Winrar untuk PC / Laptop, ZArchiver untuk Android
Support Web kami dengan cara TIDAK MENGGUNAKAN ADBLOCK