Comedy
Completed
You Who Came from the Stars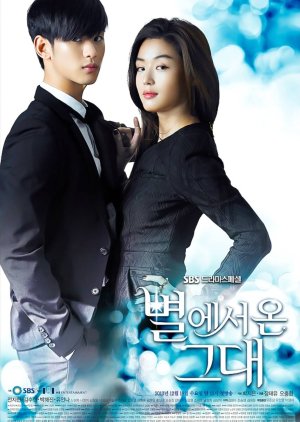 You Who Came from the Stars Eps 1-21 Batch
Ori. Title : 별에서 온 그대
Alt. Title(s) : Man From Another Star, Byeoleseo On Geudae, Man From The Stars, My Love from Another Star, You Came From the Stars, My Lover From The Stars, You From Another Star, 별에서 온 남자, Byeoleseo On Namja, My Love from the Star, Tú, que viniste de las estrellas, Mi amor de las,
Duration : 58 min. / eps
Director : Oh Choong Hwan
Casts : Kim Soo Hyun, Jun Ji Hyun, Park Hae Jin, Yoo In Na, Shin Sung Rok, Kim Chang Wan
Aired : Dec 18, 2013 - Feb 27, 2014
Aired On : Wednesday, Thursday
Synopsis
Do Min Joon adalah alien yang mendarat di Bumi 400 tahun yang lalu selama periode dinasti Joseon. Dia memiliki penampilan yang hampir sempurna dan meningkatkan kemampuan fisik yang melibatkan visinya, pendengaran dan kecepatan. Kemudian, ia menemukan bahwa ia memiliki tiga bulan yang tersisa di Bumi. Dan saat itulah dia bertemu Cheon Song Yi, bintang Hallyu terbesar di Korea.
Download Link
Need subtitle? Find on: Subscene Mirror
Jangan Lupa di Share!!! Biar Semua Orang Pada Tahu! 😁
Cara download? Baca disini
Link rusak? Lapor di komentar
Jika menonton di HP gunakan MX Player
Jika menonton di PC / Laptop gunakan VLC Player
Jika file berekstensi zip / rar, ekstrak dulu menggunakan Winrar untuk PC / Laptop, ZArchiver untuk Android
Support Web kami dengan cara TIDAK MENGGUNAKAN ADBLOCK