Comedy
Completed
Pop Out Boy!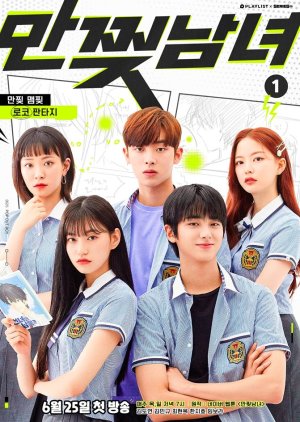 Pop Out Boy! Eps 1-10 Batch
Ori. Title : 만찢남녀
Alt. Title(s) : Torn, The Girl And The Boy Coming Out Of Manga, Boy and Girl Straight Out of a Cartoon, Manjjijnamnyeo, Comic Book Boy Girl
Duration : 15 min. / eps
Director : Wang Hye Ryung
Casts : Kim Do Yeon, Kim Min Kyu, Choi Hyun Wook, Han Ji Hyo, Im Bo Ra, Jae Jae
Aired : Jun 25, 2020 - Jul 26, 2020
Aired On : Thursday, Sunday
Synopsis
Memberitahu kisah karakter pria fiksi dari komik romansa yang melompat keluar dari halaman 2 dimensi menjadi kehidupan nyata. Suatu hari, Chun Nam Wook merobek halaman-halaman buku komik dan muncul di depan timah wanita cerita, Han Sun Nyeo. Keluar dari halaman-halaman buku komik fiksi, Chun Nam Wook mungkin merupakan heartthrob, tetapi begitu dia membuka mulutnya, dia tidak bisa menahan diri tetapi membuat terlalu bersemangat, komentar emosional di setiap belokan.
Download Link
Need subtitle? Find on: Subscene Mirror
Jangan Lupa di Share!!! Biar Semua Orang Pada Tahu! 😁
Cara download? Baca disini
Link rusak? Lapor di komentar
Jika menonton di HP gunakan MX Player
Jika menonton di PC / Laptop gunakan VLC Player
Jika file berekstensi zip / rar, ekstrak dulu menggunakan Winrar untuk PC / Laptop, ZArchiver untuk Android
Support Web kami dengan cara TIDAK MENGGUNAKAN ADBLOCK